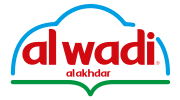 About Al Wadi Al Akhdar
An exceptional range of Lebanese and Middle Eastern specialty foods from the number one brand in Lebanon.
Since 1979, Al Wadi Al Akhdar has created authentic and naturally flavoured foods, including blossom waters, pickles, hummus, tahini and molasses.
Stocked in supermarkets globally and chosen by families and chefs across the world, Al Wadi Al Akhdar is number one because you can rely on it for consistent quality — it's guaranteed to taste authentic every time.